Phipps Conservatory – South Conservatory Restoration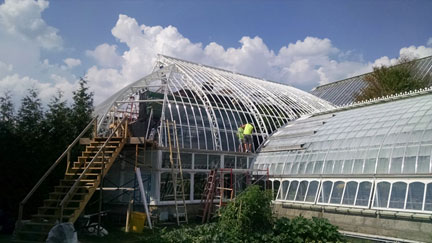 PROJECT: Roof Replacement for South
OWNER: Phipps Conservatory/City of Pittsburgh
DATE: 2015
CONTRACTOR: Renovation Services, Inc.
Montgomery Smith, Inc.
Structure Assessment
Consulting Services
This project for Phipps Conservatory is the seventh major restoration effort in the complex of thirteen turn of the 20th century glasshouses. The South Conservatory was renovated in the early 1960's but that project incorporated modern aluminum rafters and wider glass than the original. The current project includes complete new aluminum replicated rafters, safety glass glazing system in the original width and new automatic roof vent sash operating systems.
Go to Top of Page
---
Dumbarton Oaks – Frame Yard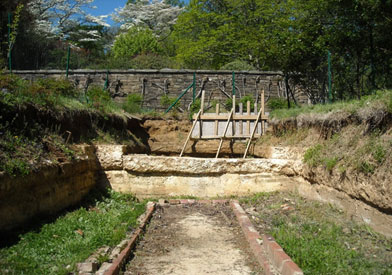 PROJECT: "Pompeii" Hot Frame Excavation
OWNER: Dumbarton Oaks/Harvard University
DATE: 2015 to Present
CONTRACTOR: Renovation Services, Inc.
Montgomery Smith, Inc.
Re-construction Assessment
Construction Documents
The excavations of the Dumbarton Oaks' Frame Yard executed during the summers of 2012 and 2013 brought to light, for the first time since 1949, the foundation walls, walks and floor plan of the "Hot Frame" and connected "Cold Frame" structures. From these remnants of the frame structures, few and limited photos and some brief written records, the challenge was on to understand how these greenhouses were used and to re-construct the original Hot and Cold Frames as they appeared in the 1920's and 1930's.
Go to Top of Page
---
Desert Botanical Garden – New Maintenance Facility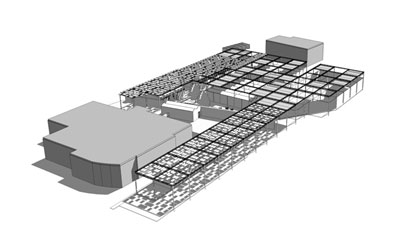 PROJECT: New Maintenance Facility & Greenhouses
OWNER: Desert Botanical Garden
DATE: 2014 – 2016
CONTRACTOR: 180 Degrees
Montgomery Smith, Inc.
Greenhouse Design
Environmental Controls Design
The Desert Botanical Garden in Phoenix has begun a massive re-building of their maintenance and plant holding facility which includes over 10,000 square feet of enclosed greenhouse space. The project also includes new and renovated shade structures, service buildings, outdoor education areas and storage buildings. The greenhouses have numerous cooling light and shading systems both inside and overhead of the structures. Construction is scheduled to e complete by late 2016.
Go to Top of Page
---
Birmingham Botanical Gardens – Learning Greenhouse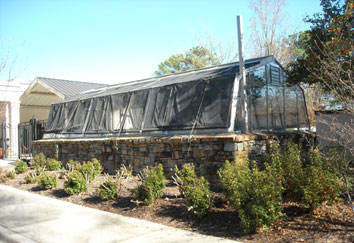 PROJECT: Restoration of the Learning Greenhouse
OWNER: City of Birmingham
DATE: 2015
Montgomery Smith, Inc.
Greenhouse Assessment
Construction Documents
A vintage 1960's Lord and Burnham "ORLYT – Even Span 14"™ aluminum and glass greenhouse is located on the plaza adjoining the Library and has been in continuous operation for study and learning since the early 1960's. The aluminum frame and glazing system sits atop a concrete block and stone veneer foundation knee wall. The glazing is clear annealed glass. The greenhouse was equipped with automatic roof vents, exhaust fan, circulation fans, space heater, plant benches, exterior shade cloth tie-downs, gable entrance door with insect screening and a work sink. A complete renovation is planned which will include new safety glazing, plant benching, shade system, environmental control system and new heating system.
Go to Top of Page
---
Cheyenne Botanical Garden Conservatory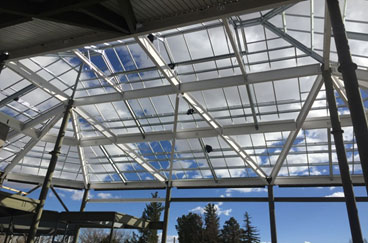 PROJECT: Conservatory at Cheyenne Botanical
OWNER: City of Cheyenne, Wyoming
DATE: 2016
CONTRACTOR: 5R Construction Contractors
Montgomery Smith, Inc.
Design Team
Consulting Services
The expansion project at the Cheyenne Botanical Gardens will include a Grand Conservatory, an Orangery multifunctional space, second story administration offices, a third story observation deck and a bridge connecting the second floor of the existing conservatory to the new spaces. New site changes will provide additional parking and better access to the Conservatory.
Go to Top of Page
---
OARDC – Ohio State University Research Facility
PROJECT: Williams Greenhouse Facility
OWNER: Ohio State University
DATE: 2015
CONTRACTOR: Donley's, Inc.
Montgomery Smith, Inc.
Design Team
Consulting Services
The OARDC Campus in Wooster, Ohio was devastated by a tornado in 2010 completely leveling the Williams Greenhouses. Designs for a replacement facility started in 2011 and commenced in 2013 with construction starting that year. The 20,000 square foot facility is divided into fourteen separate compartments. The design incorporated a central hallway providing intake air and utilities for all of the compartments. State of the art heating, cooling ventilation, growth lighting and environmental controls dominated the design process. Shade/heat retention blanket systems and high pressure fog systems were also included in the finished complex. The structure is aluminum with an aluminum glazing system using laminated single layer glass for the roof glazing and polycarbonate panels for the vertical glazing systems.
Go to Top of Page
---
Rutgers University – Boyden Hall Greenhouse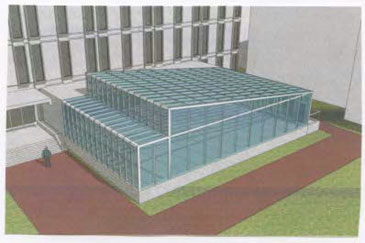 PROJECT: Boyden Hall Greenhouse
OWNER: Rutgers University
DATE: 2016
CONTRACTOR: Environetics
Montgomery Smith, Inc.
Design Team
Consulting Services
The proposed Greenhouse is a 1 story +/-2700 square foot glass structure located on the southwest corner of Boyden Hall on the Newark campus of Rutgers University. The proposed greenhouse will support the Rutgers Newark Department of Biological Sciences and will be accessed from the second floor of Boyden Hall.
Go to Top of Page
---
Amherst College – New Science Center Greenhouse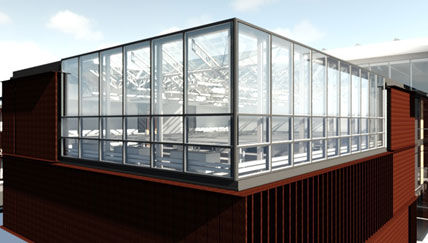 PROJECT: New Science Center
OWNER: Amherst College
DATE: 2015 – 2016
CONTRACTOR: Payette
Montgomery Smith, Inc.
Design Team
Consulting Services
The new multi-story Science Center project for Amherst College will incorporate a state of the art greenhouse on the top floor of the facility. Behind the curtain wall enclosure will be a "Venlo" style gutter connected greenhouse structure. The two greenhouse compartments will have insulated glass glazing, automatic shade and heat retention systems, high pressure fogging, growth lighting and misting systems.
Go to Top of Page
---